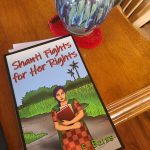 Powerful.
Insightful.
Impactful.
Three empowering words that describe this book which follows 14 year old Shanti in her village in India fighting for her right to be educated. In Nova Scotia, Canada, we all complain when a day of school is cancelled due to weather, not understanding the global picture of public schooling challenges.
Following his mothers traditional lead, Shanti's father insists his daughter quit high school to be married. When the third girl is born into their family, he feels there is no better option than marrying his daughter off to a respected family. While Shanti's mother seems to disagree, she follows her husband's teachings and asks her teenager to do the same.

This young girl is torn between her dream to continue her education and become a teacher to pass on the favour and obeying her father. In a struggle of respect for your elders and respect for yourself, Shanti's story, while fictionalized, is common and seems unfathomable to understand the theory behind the dangerous traditions.
Growing up in India, the now Canadian author beautifully combined her own research and understandings throughout the story, offering the reader great insight into how powerful one young girl can be.

An excellent read for anyone who wants to appreciate how fortunate our customs make us is Canada. Published by a OC Publishing in Nova Scotia, you can get your own copy of Shanti Fights for Her Rights through Wild Willie's Amazon affiliate link at https://amzn.to/3EDXnOA.

Thanks for reading,

Sarah Butland