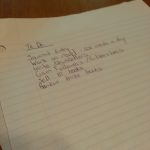 With all this time on my hands this summer I had big plans but just can't seem to remember what they were or have the ambition to focus on one thing in particular.
Yesterday I cleaned a lot of our garage in lieu of writing which is very unlike me, until lately. I've been wanting to blog, to write a newsletter, to work on a new novel in progress and yet I just sit, read and do busy work -needed to be done but not as unique to my passions as I would prefer.
So every night I plan to write a to do list and haven't managed to do even that in three weeks. With it being so close to August and the "end" of summer I think it's time for me to sort out my objectives and get them accomplished. (This counts for my daily word count goal, yes?)
To Do
So I have to wonder… do you have a daily "to do" list regimen? Do you find it effective or do you try to do one and get discouraged because doing so would put one more thing on your to do list?
I have goals and I'd like to think all that it takes is me and my will-power to achieve them and yet I'm sometimes faced with knowing that just because you build the field it doesn't mean they will come. Building it bigger seems daunting yet some say the bigger it is the more noticeable it will be.
So I balance between living my dream, making it more obvious and sending out invitations along the way.
Done
So with a word count of about 300  I guess I'm over halfway done my daily goal and, once again, I'll promise myself to get on that to do list but maybe this time I'll actually do it!
Thanks for reading and, in advance, for commenting,
Sarah Butland