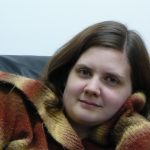 Sarah Butland is the author of several books in a variety of genres, including an awarding winning short story. You can view the list of book titles here.
Every moment possible Sarah is writing or reading and thinking about her next project.  Always keeping an eye out for the next possible writing gig, Sarah is more apt to use her own imagination to create something for readers to enjoy.
You'll be able to read Sarah's works on this site, leave comments and sign her guest book.  You'll be able to submit your own work for publication (details will be announced) or just sit back and enjoy her works.
With a history of poetry, random and otherwise, Sarah will share herself and her imagination through her work.  It'll be up to you to decide which is which.  With short stories and published works, articles written for her local newspaper and a history of printed letters to the editor, this website will blossom into everything Sarah wants it to be and hopes, along the way, to have you as a longtime fan or friend or both.
Mark SarahButland.com as one of your favourites so you can easily come back and check for updates on this Moncton author (there will be tons) and email me or visit me on Facebook and learn where I've been and where I'll be going.
Enjoy your time on this site, read Butland's reviews and decide which you would like to read.