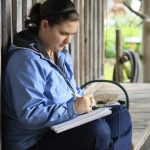 For the love of writing and writers everywhere I have decided to create an online writing course with prizes to be won!
With your subscription, every 15 days I'll automatically email you a new creative writing prompt and, if you dare to accept it, you can email it back to me for the chance to win a $10 Amazon/ Chapters or PayPal prize! With each completed (and sent to me) exercise your nae will be entered into a draw for a quarterly prize so do them all for more chances to win!
Yes, I realize there are books out there or free prompts available online but I am willing to give you feedback as you request. AND who doesn't love the chance to win?
To start, the subscription is just $5 for six months (that's 12 unique writing prompts!) and it doesn't auto renew so it's important to sign up again when you're ready for new ideas!
*Appropriate for all ages!
Let's have fun with this and start today. I'm eager to read what you come up with!
Thanks for reading and subscribing!
Sarah Butland