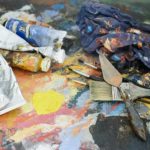 Flo was alone again and had nothing to do but sleep. She retired to her childhood bedroom and slept like the dead, as lonely as a wolf.
When she woke it was much, much later, weeks later and the sun was shining.
Judy was busy at home painting and planning, deciding on a theme for each room and ensuring flowers were incorporated into each piece somehow.
The kids were healing, still traumatized but getting back to their normal lives before the separation and Max was actually home a lot more. On that particular day he was at the art gallery, supervising everything to make sure things were handled just so. And then Judy got the call.
"Come over here, as soon as you can and bring the kids."
"Is it finished?" Judy's excitement grew by the minute and she capped her paints and washed her brushes as she talked.
"Just get over here." Max knew if he talked anymore he'd give it away and he didn't want that.
Judy hurried, yelling for the kids to get their shoes on, and they were at the house within 12 minutes. When Judy stopped the car her jaw dropped and she couldn't get out. Everything was perfect, except for the construction crew running around like ants but otherwise, the place looked fabulous. It took her a few minutes to realize Helen and Lucas were running up the driveway to their father. She followed.
"Max, you did it!" Judy breathed as she reached him.
"This isn't even the best part. Come see." He led his family to the backyard and while they hesitated Max was brave enough for all of them. Judy realized why when she got there.
While the focus was around the house there was no work being done to the garden but they discovered there didn't need to be. Nature did it for him and before their eyes the family saw the property be reformed into an oasis they all knew people would be eager to see a lot more often than every ten years.
As they wandered throughout the trails of strawberries plants and apple trees Max got a call. Judy was about to roll her eyes but stopped herself. It wouldn't be work, she finally was confident of that. Hanging up the phone he turned to the family and said, "Come see the best part, it's ready now."
Judy didn't understand how their could possibly be more but as they turned around front and saw a sign newly hung she gasped, "It's perfect."
Lucas, still learning to read, sounded out "Flo's Place: Artistry and Wizardry."
Thanks for bearing with me throughout this challenge! It was a wonderful journey for me and hope it satisfied your every whim.
Cheers to a happy and successful June, filled with your own accomplished goals!
Sarah Butland