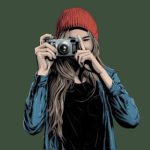 Start the story by visiting "Abandoned" or read on to learn about Charlie. 🙂
Charlie wasn't always the town's gossip. Writing poetry in solitude was how she spent her days but, now in grade 11, she felt the pressure to pick a study and college or university to apply to. Her parents, a dentist and a veterinarian, expected her to choose an Ivy League and study law or get into a police academy. They mostly just saw her report cards, not her.
Charlie was a writer and that's all she aspired to be. A poet, really, but she also wanted to move out of the small town of Newton and live on her own. Getting accepted to a university would at least give her that separation and she knew her parents would pay her way as long as she preformed. So at the end of grade 11 she switched all of her courses to center around journalism and applied for an internship at the Broadcast, plus started her own blog and social media following.
As the intern she was tasked to cover the tradition of the house viewing. Not knowing much about it before, researching the 10 year ritual was easier than she thought. There were piles of stories highlight at the local library and any senior she talked to told her a wealth of information, they just all conflicted.
In the beginning she hated being the one to 'catch this story' but now she was excited about it. If she did a good enough job on it she imagined it would be a great add to her college application. Her parents would be disgusted to know she was applying for her Bachelor of Arts with a major in journalism but it was a good compromise.
Scribbling in her note pad trying to capture everyone's reactions Charlie was surprised to see Helen with a young boy standing beside her. A classmate but that was all, they stayed away from each other as they wooed the same classmate. When she noticed Helen was leaving and the boy was staying she shrugged it off as just another oversight from Helen and walked towards the house, determined to get a great shot of the crowd.
When the boy followed her Charlie was pleased as she knew Cole had a little brother himself. Being sure Cole was in the crowd the scene before him would play out beautifully – big sister forgets brother so busy journalist takes him in.
Capturing a few of what she needed of the crowd, Charlie zoomed in to get a few extra snapshots of Cole and then Lucas asked for one of him. Delighted at the idea of the little boys bravery and sense to have it captured, Charlie took the picture and gasped!
That's the end of that part.. stay tuned for tomorrow's post "Damage Done".