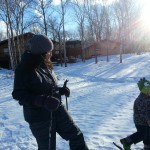 Already when you search for Fleur Mainville on Google the top links show she died and this frustrates me to no end. If anyone lived at all it was Fleur and so I want to remember her life.
Her ability to light up a room (cliché but true), to sparkle when talking about her husband, a hero to two beautiful children who now embody her. Sweet Ava dances like no one is watching, enjoying the music of any genre or local artist and Dominic, stoic and proud of who he can now call his mom and dad.
In her husband, Andrew, who was the sun who made the flower blossom the strongest. The light she thrived to talk about and couldn't wait to see again.
The children of the community who were fascinated by her ability to play "the Train Song" faster and faster as they raced around her. Students who were in awe at her skills and teaching methods, inspired by her story and kind words.
Fleur Mainville was living her passion, there was no other choice in her eyes, and having a blast doing it. Her schedule so hectic but somehow maintained with grace. She miraculously had time for all who she loved, and that was a lot of people, and made me feel so honoured she made some time for me.
I haven't known her long but our instant connection was so common with her. She simply loved everyone she met and made them feel like she was their best friend.
Every time my family listens to one of her cds, hears her voice on the radio or reads her words, simply at the sound of her name, we will remember her life and all she did for those around her. Fleur lived up to her name with her beauty touching deep into the viewer's soul. An artist, a friend, a survivor, Fleur Mainville lives in our memory of her.
I, for one and I'm sure of many, will love her forever because she lived for all of us and that is what made her the happiest.
Thanks for reading and remembering Fleur's life,
Sarah Butland