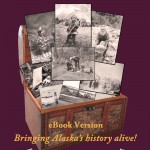 Bringing Alaska's History Alive!
Laurel Downing Bill did an amazing job at keeping my attention with her stories regarding the history of Alaska. Before reading her book I knew very little of this northern state of America beyond the basics and now I feel as if I lived there once.
From discovering new communities and mining new gold, these stories took me from when Russians discovered and claimed ownership through the transfer to the USA. Included within the stories of Alaskan's Native people were pictures that impressed me just as much as the adventures of each tale.
Through the prices of meals, the desperate measures and determination of its settlers, Downing Bill introduces her readers to the colourful past of this ever developing state. Hospitals built with money raised in raffles still house the sick today while many communities burned to the ground as the ever-ready firemen couldn't get to the locations fast enough.
Thought over 300 pages long, this novel contains so many interesting and intriguing facts it kept me challenged and learning about the state. Before I read this I basically knew Alaska was cold, Anchorage was a place there and Jewel was raised there. (Ok, I knew a little bit more but not much)
Aunt Phil's Trunk Volume One should be in all the schools in the USA as it was easy and fun to read and contained a lot more than the usual dry facts and dates I remember reading in history class.
Enjoy reading history and learning about the world with Lauren Downing Bill and Aunt Phil's Trunks.
Thanks for reading,
Sarah Butland
author of Sending You Sammy
, Brain Tales – Volume One
, Blood Day: The Short Story
and Arm Farm