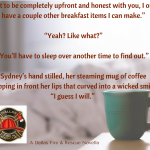 Sidney Mitchell, granddaughter of a wealthy Dallas icon, loses her beloved Grandpop and her world slips off its axis. When a handsome stranger sends a smile her way at the funeral, she welcomes the distraction and accepts his lunch invitation. He quickly becomes an important figure in her life, helping her forget her grief and focus on her future.
After working a twenty-four hour shift, firefighter Max Harmon is involved in a fatal accident. While paying his respects at the funeral of the victim, he is knocked off his feet by the beautiful blonde with the sad eyes. They're both looking for an escape and turn to each other, finding friendship, laughter and incredible chemistry.
Sydney loves that Max is unaware of her heritage. For the first time, she's not worried about a man using her for her family's wealth. Their passion burns hot until she learns Max is the reason her Grandpop is dead. He may be charming, kind and sexy, but she can't forgive him for stealing her Grandpop from her, and for starting the cover-up she's sure is there.
Will their newfound love be strong enough to battle through the betrayal, or will their relationship go up in smoke?
Excerpt:
"Max," she warned. Her stomach growled and she giggled. "We need food. I'm not great in the kitchen but I can help."
"You can sit on the counter naked and be my inspiration." He kissed the tip of her perky nose and climbed out of bed, rummaging through his drawers for a pair of shorts and a clean shirt.
"That doesn't sound very sanitary."
"Sounds freaking sexy to me." He winked at her from the doorway and headed to the kitchen with a shit-eating grin on his face.
PURCHASE LINK: https://www.amazon.com/dp/B01N9TC7TO/
MEET THE AUTHOR:
Marianne Rice writes contemporary romances set in small New England towns. Her heroes are big and strong, yet value family and humor, while her heroines are smart, sexy, sometimes a little bit sassy, and are often battling a strong internal conflict. Together, they deal with real life issues and always, always, find everlasting love. When she's not writing, Marianne spends her time buying shoes, eating chocolate, chauffeuring her herd of children to their varying sporting events, and when there's time, cuddling with her husband, a drink in one hand, a romance book in the other.
Amazon: https://www.amazon.com/Marianne-Rice/e/B00SICUIRM
Facebook: https://www.facebook.com/MarianneRiceaut
Twitter: https://twitter.com/mariannericeaut
Website: http://www.mariannerice.com/