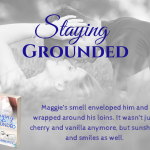 A Rocky Harbor Novel
Genre: Contemporary Romance
Publisher: Limitless Publishing, LLC
Graham Riley enjoys the laid-back freedom of a pilot's life—until one choice puts his career in jeopardy…
Graham loves his job—it allows him to escape his troubled past and the stigma of being a murderer's son. But after an altercation with a drunk passenger is posted on social media, he's forced to go on administrative leave until his name can be cleared. To get his wings back, he must attend anger management classes, and to avoid the media frenzy near his home base in Texas, he heads to Rocky Harbor, Maine.
Responsible therapist Maggie O'Fallon wants a stable relationship with a man who's not going anywhere…
Maggie grew up with parents who were never around, physically or emotionally. Needing steadiness in her life and in a relationship, she only dates men with normal jobs. But when Graham walks into her office and flashes his charming steel-blue eyes at her, she's at a loss for words. Torn between her ethics and her heart, Maggie asks Graham to see a different therapist so they can explore the chemistry between them.
He has everything she's been looking for—except stability…
Maggie touches something deep within Graham and he panics, pushing her away, too scared to face his feelings. But when a private investigator threatens to discredit not only Graham, but Maggie's practice as well, he is faced with two choices. Fight…or take flight.
Battling a lawsuit and his heart, Graham must decide what's more important—the life he thought he wanted…or Maggie. Maggie might be the only thing that will ever help Graham
Stay Grounded.
PURCHASE LINKS:
MEET THE AUTHOR: Marianne Rice writes contemporary romances set in small New England towns. Her heroes are big and strong, yet value family and humor, while her heroines are smart, sexy, sometimes a little bit sassy, and are often battling a strong internal conflict. Together, they deal with real life issues and always, always, find everlasting love. When she's not writing, Marianne spends her time buying shoes, eating chocolate, chauffeuring her herd of children to their varying sporting events, and when there's time, cuddling with her husband, a drink in one hand, a romance book in the other.
Limitless Publishing: http://www.limitlesspublishing.net/authors/marianne-rice/
Facebook: https://www.facebook.com/MarianneRiceaut
Twitter: https://twitter.com/mariannericeaut
Website: http://www.mariannerice.com