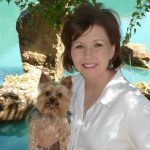 As an author of many books I often forget to celebrate my past successes, in particular the date of publication for each book. This makes me especially enjoy when I can celebrate another authors publishing anniversary such as I'm doing today for Renee Kennedy and her book Love Me ~ Like That.
Please read on to learn what I did about Renee and her writing plus family!
1. I learned you used to be a banker and wondered if you find a big difference between crunching numbers for a company or putting together letters for a reader?
It's much more fun to write books! Getting to live in an imaginary world where money isn't a concern is awesome. I loved my job because I could help others, sometimes finding other solutions to their problems than just a loan. It was rewarding at times, but I didn't care for the collecting aspect of the job. I don't like confrontation and when customers couldn't pay their loan back, it could get hairy sometimes.
2. #Sassy, #Southern, #Sexy is listed as your tagline on your author Facebook page – are you referring to yourself, your style of writing or what you love to read and write?
Well, it refers to my writing but some of it refers to me. I am certainly southern and I've been called sassy. I love to read sexy books and escape reality.
3. Who would you choose – Cash or Hendrix?
I would pick Hendrix, he has been called (by fans) as the love child of Nicholas Sparks and E.L. James. Cash is a gentleman in public, but he knows how to be a devil in the bedroom. Plus, I could never be under someone thumb like Hendrix wanted to have Bailey.
4. Would you recommend your books to your son, Braxton? Or his suitors?
Oh NO! First of all, Braxton hates to read. Second, it would embarrass him too much. There's things an 18-year-old doesn't want to know that their mom thinks about. There's a part about an orange, that I would probably have to buy stock in oranges if he read it.
5. Who do you write for?
I write for myself. Love Me – Like That is very near and dear to my heart, it has my grandparent's true love story in it. Most things about the grandparents, in the story, are true things my own either did or said. I dedicated the book in memory of them.
6. Who is your favourite author?
I have so many! The couple that I look up to and that has really helped me along this journey, would be Maggie Adams and A.D. Ellis. I recently discovered Lauren Blakely and Vi Keeland and I really enjoy their books.
7. What is your favourite drink to have while writing? While reading? Do you snack while doing either?
Here is where my southern starts showing. I love sweet tea. I see many authors post about wine and I do like it, but I prefer my tea. There's always a gallon in my fridge. I love snacking on trail mix or gummy bears while I write, the only problem is that I get so absorbed in the story that I could eat the entire bag in one sitting.
8. Do you write primarily on the computer or by hand?
I write on my laptop. I can't type as fast as I write so it slows me down enough to think about what I want to say. Also, it saves me time in the long run.
9. Do you prefer to read or listen to audiobooks?
There are some books that I prefer to read, but I got addicted to audiobooks when I lived 45 minutes away from work and didn't have as much time to read.
10. With the launch of your book Love Me Like That in audio format, what do you feel the narrator adds to your story?
Her affliction of certain words really gives my book a different personality, I can listen to Cash say his sweetly dirty things to Bailey and just sigh.
11. Anything you'd like to add?
I would like to thank all of my readers who love Cash as much as I do! I love hearing from you guys, it makes my day!
Renee Kennedy BIO:
Renee Kennedy grew up in Decatur, AL and has been married to her high school sweet heart for 23 years. She currently lives in the Houston, TX area with her husband Jason, her son Braxton. She also has one son that is serving our Country in the military, Brett.
She loves living in Texas but she'll always be a Bama girl and that is where her heart remains. Renee has always been an avid reader but never dreamed of writing a book, until reminiscing about her grandparent's love story, Bailey's story popped into her head. Her grandparents played a significant role in her life growing up, so sharing a little piece of them with the world; helps keep them alive in her heart.
When she is not reading or writing she loves to cook and try out new recipes. You can often find her hanging out with her family and friends or stalking her own favorite authors.
Amazon
Goodreads
Email
Website
Facebook
Pinterest
Twitter
Instagram
TITLE: Love Me~ Like That (Love Me, #1)
PUBLICATION DATE: October 15, 2015
GENRE: New Adult
BUY LINKS:
Amazon
B&N
iBook
Goodreads
Synopsis:
It's a battle between her head and her heart.
Bailey Reynolds never thought she would ever in her life have to choose between someone that will give her everything she wants in life and someone that makes her feel like she is everything in his life. How does this southern spitfire choose between what her heart wants versus what her head tells her she wants?
Hendrix~
Can make her dreams come true
Reaches in the sky and buys any star she desires
Wants to set up a perfect life for her with everything she needs or could want
But every so often can't dry her tears
He's not perfect but he was until ~ CASH
Cash~
Sets her world on fire.
He is everything her heart wants but, not necessarily what her head wants.
He creates his own stars and catches all her tears.
But is love enough?
Sometimes life is full of hard choices but that is when the biggest blessing take root.
TITLE: Love Me~Without Regret (Love Me, #2)
PUBLICATION DATE: January 29, 2016
GENRE: New Adult
BUY LINKS:
Amazon: http://amzn.to/2af0PE4
Goodreads: http://tinyurl.com/gvso9sb
Synopsis:
What happens when vigorous forces are pulling in opposites directions?
Lizzie tells it like it is and doesn't want anything serious because she can't put her heart on the line. Clay's not her type, but she would like to get him into the bedroom and out of her system.
Clay is a laid-back, go with the flow guy who doesn't ever want a causal relationship again. He's been burned once, but it was a scorcher. He sees something special in Lizzie.
They almost agree on something…
Lizzie refuses to have a one night stand with him because it would ruin their friendship.
Clay won't have a one night stand with her because she deserves so much more.
Will Clay's past creep back in and play havoc with their already vulnerable hearts? Will everything they've worked to protect be tarnished in the process?
TITLE: Love Me~Through the Storm (Love Me, #3)
PUBLICATION DATE: May 17, 2016
GENRE: New Adult
BUY LINKS:
AMAZON: http://amzn.to/29PcfNN
Goodreads: http://tinyurl.com/z5ml23c
Synopsis:
My life is a mess and I've got more women wanting a piece of me than I'd ever know what to do with. But, my mouth still waters for that delectable piece of forbidden fruit. For my own sanity, I should cut all ties with her but it's too late. My heart is already involved and she needs me, now more than ever.
I'm not the kind of person people love. She's the only one who has ever found me worthy.
They've tried to keep me away but for me, it's always been her and it always will be. I'm here and ready to go to battle to keep her. It doesn't matter that her family hates me, she's mine and I can't let her go.
My past is a hurricane and I can only hope she's able to weather the storm.
An Interview with Renee:
What made you decide to sit down and write your story?
I love to read, I got tired of reading about millionaires and step-brothers. I wanted to write something that was more realistic but still romantic, steamy and maybe would make people smile.
Where did the idea for Love Me ~ Like That come from?
The idea came to me while remembering my grandparents which I miss dearly. My grandfather told me a thousand times about his and my grandmother's love story. It's more beautiful than I did it justice or any I have ever read.
Was there anything in particular that inspired you?
Music, I was at a Luke Bryan concert and he was singing these wonderful love songs. I'm not sure if it was the gyrating of his hips or his words but I thought a butt like that… I mean songs like that need to be written about.
Are you working on any new books right now?
Yes, I'm finishing up my 1st draft of book two, Love Me ~ Without Regret. It is about the best friend of the girl in the first novel.
Do you have any advice for aspiring writers or new authors?
My advice for aspiring authors is to not let anyone hold you back. You have a story that you want to tell and readers want to read that story. Then find an awesome editor.
What is your favorite genre to read?
I'm a hopeless romantic so I love romance books, but I like stories that have a reason to be written. If you can take out all of the steamy parts and there still be a great story, one that will stick with you a month or year later, and those are my favorites.
Are there any books that sparked your writing career?
I would have to honestly say that I have two indie authors that I admire and their books really stuck with me.
One of them is A.D. Ellis; author of For Nicky was the first author I ever reached out to. For Nicky is the perfect example of a book that you can remove all of the steam and the story left is absolutely amazing? Ellis takes these sensitive subjects and writes them in a way that gives such respect. She is who I want to be when I grow up, even though I'm older than her.
The other author is Maggie Adams, she writes these sassy steamy stories that are a hot mess and have a little suspense in them. Adams first book, Whistlin' Dixie, was a book that caught my eye by its cover. She could not have picked a better cover to convey what was inside. I love her characters they are realistic and she has knack of making you want to know more.
Would you like to nominate a book for next month's Book of the Month?
I would like to nominate Sawyer by A.D. Ellis for a future month's book.
Praise for Love Me~Like That
This book Gah! I loved this book! The author really sucks you into the story and makes you jealous of all the time Bailey gets to spend with Cash, your new book boyfriend! Definitely one for the favorite's shelf! – Kris Hack
This book is written by a first time author & she really makes you feel part of the story. I couldn't put this book down! I highly recommend this book to everyone over the age of 18.- Denise Veach
Thanks Renee and Happy Anniversary. Now I'm curious about oranges… I'll need to read your book and buy an orange.
And thank you for reading!
Sarah Butland
author of Being Grateful, Being Thankful