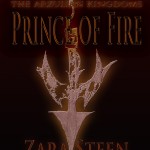 I'll give any Canadian author a chance, especially one from the Maritimes so when I discovered this paranormal I hesitated only slightly. As paranormal is typically not my genre of choice it was a challenge for me to choose this over many other books but I'm sure glad I did.
Prince of Fire (The Arzulian Kingdoms)
Captured Me
And wouldn't let go… Though a long book I found it to be a fast paced read and it left me wanting it longer. Imagine yourself in Halifax, Nova Scotia one minute, leading a boring life and juggling relationships with an on and off boyfriend and your older sister to next be in a strange land and sold as a slave.
Each character, starting with Sammie (Samira) and her sister Salha, was well developed and memorable. I found myself easily liking these sisters and hating those who made them suffer and wouldn't allow their return to the world they knew. And yet, maybe the return wasn't what they wanted, at least for Salha who was finding the adventure and men she wanted to love in this new world.
Developed Characters and Capturing Plot
Prince of Fire (The Arzulian Kingdoms)
not only had magnificent characters and descriptions but this novel was complete with a fast paced plot that kept me riveted.
With some racy content that made me blush while reading in the same room as my inlaws, Zara Steen certainly mastered the art of subtle flirtation through x-rated action and everything in between. Though I wouldn't recommend this book for the faint of heart, these scenes added an element that will intrigue and entice the romance some paranormal readers crave.
A must read for anyone able to enjoy a little written sex and be left wanting more.
Thanks for reading,
Sarah Butland
author of Sending You Sammy
, Brain Tales – Volume One
, Blood Day: The Short Story
and Arm Farm