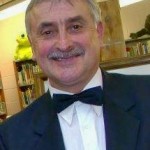 John Ashton is hilarious and much more outgoing than any other writer I've met. We met for the first time at a local book signing at the New Glasgow Farmer's Market and laughed the whole time – with him, not at him.
He may not have noticed but I was nervous to meet/ stand beside him that morning. Mr Ashton took charge and made it comfortable and honourable to be standing beside him while he introduced me to so many.
A father and grandfather, this man is multi-faceted in his talents, dedication and passions while still being a very nice and welcoming guy!
Come meet him for yourself on November 30 if you're anywhere near Pictou County at Coles in Highland Square Mall and get some of your Christmas shopping done.
Thanks for reading,
Sarah Butland