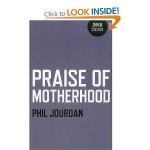 Phil Jourdan is brilliant and troubled. His simple words, complex experiences and troubling therapeutic methods equal a brilliant novel that you can tell is both healing and feel how touching it is.
With his mothers sudden death in 2009 Phil expressed his journey through life with a mother who loved him and stood by his interesting antics. The answers she left will live on with him and his readers forever but so will the questions.
Was she really a spy? Did she really die? What was real and imagined in the authors mind is for the reader to reveal with every turn of the page.
Praise of Motherhood
takes us on a journey from an ordinary single parent to an extraordinary woman. Phil discovers for us that mother's are not just mom's, they are people too.
Thanks for reading,
Sarah Butland author of Sending You Sammy
, Brain Tales – Volume One
and Arm Farm