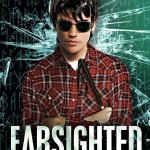 Farsighted
is brilliant in that it had me understanding what it was like to be without sight! While I was reading it I stumbled over a few paragraphs as it seemed I was trying to find instances where this author slipped and was truly impressed when I didn't find even one example!
Not reading anything about this book prior to diving in I was welcomed by wonderfully warm water in both the character end and the plot side. I related mostly to Alex, even though I have my first sight and that alone, as I was transferred to a new school mid-way through the year and felt blind by all the possibilities. Only Alex had a cane for guidance and luckily enough, for protection.
Perfect read for teenagers, both male and female, it's also relevant to adult readers of almost any type.
The mystique of the fortune telling, the psychic powers, seeing into the future, all seemed like a subplot to me. A way to spin the tale of a "special" boy who was special in so many ways people were blind to.
Written expertly in present tense impressed me as well as I often struggle with staying in that tense. Emlyn Chand is certainly an author to keep an eye on, whether you're using your first or second sight.
Thanks for reading,
Sarah Butland
author of Sending You Sammy
, Brain Tales – Volume One
and Arm Farm