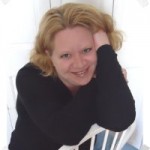 Throughout this books entirety I had to keep checking Facebook to ensure there wasn't an RIP Kelly Moran group created. It's description of life and death was so beautifully composed that I was worried for the health of the author, not to mention her husband and children.
This short novel is filled with questions we all must have asked ourselves but not in phrases with such honesty and power. In Idle Thursday
we don't even learn the main characters name which isn't important as we can all picture the woman and sympathize with her.
A heavy read but one that can be done in one sitting, Idle Thursday
has me pondering my own life after death and has helping me reflect on the important aspects of how I'm living now.
Thanks Kelly for sharing your insight.
And thank you for reading,
Sarah Butland
author of Sending You Sammy
, Brain Tales – Volume One
and Arm Farm