Fill In The Blank Letters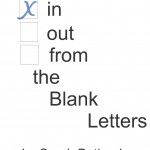 Promote literacy in your home, neighbourhood and beyond with these Fill in the Blank Letters meant to have your child sending and receiving letters of their own.
If you have tons of people who you should be writing to but can't find the time, wish your child would write more often instead of tying up the phone lines or have a mailman or woman who you like to keep employed and busy, I have your answer. Fill in the Blank Letters will solve all of these dilemma's and so many more.
Just print off the these Easy to Write Fill in the Blank Letters
, select the most enjoyed answers and send away. Not many words to write, just your name and your friends and the rest is just a check mark but it's something you'll enjoy reading and passing on.
I've included humourous, serious, holiday, even a reminder note to get things done all in the style of Fill in the Blank Letters
. You also should take advantage of posting our pre-written, easy to complete, PS on any letter you select.
Just $1.99 USD will get you immediate access to over 45 pre-written Fill In The Blank letters that you can send to pen pal's, friends who've moved or friends who haven't, anyone really!
You don't want to leave out anything important especially when it's so easy to add it. Whatever the occasion I have your letter – Fill in the Blank Letters
style!
With my Fill in the Blank Letters
you'll have young children and teenagers wanting to send letter's to their friends. Have them practicing their reading and light up a friends life by having something in the mailbox just for them. If they can check a box they can send these letters and make a difference!
Just visit: Fill In The Blank Letters for your copy today and print from your computer in minutes!
Thanks for reading,
Sarah Butland