Through the Eyes of a Teenager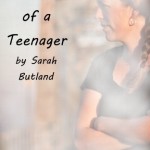 Writing careers start somewhere and for me it was with poetry. Cheaper than a therapist, more mobile than one, too and definitely not as secretive.

Through the Eyes of a Teenager is terrific for any teenager going through well, teenagehood, and any parent of a teen going through it. This quick, easy to read, collection of poetry takes one through love, loss and all those cliches in between.
I hope you'll delve into the world of adventure and enjoy the satisfaction of getting through it.
Thanks for reading,
Sarah Butland
author of Sending You Sammy
, Brain Tales – Volume One
and Arm Farm