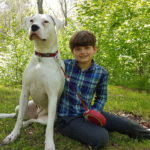 Though it's Father's Day today and all great dad's out there deserve their time to shine, especially the Dad I live with for all his efforts today this post is about our son.
I am in love with his reading ability and interest in reading books of all kinds but he took it a step further and decided to create a YouTube channel reviewing what he reads! And he's a natural. While the first video took a bit of editing, the second and third were done in one shot! Not only will this encourage him to read through books but he loves the idea of supporting authors as much as he can!
I invite you to check out his videos and if you have a suggestion, or your kids have one, on what to read next please feel free to comment and subscribe!
Thanks, in advance, for watching,
Sarah Butland
author of Being Grateful, Being Thankful