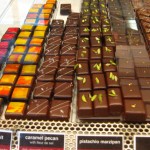 On this Canada Day, enjoy this guest post by Doreen Pendgracs about Chocolate, Books and Canada – three of my favourite things!

Thanks for taking over, Doreen! Readers, as a thank you please head on over to Doreen's Amazon page and give it a lick… er.. like!
I've spent the past five years researching chocolate around the world as research for my series of books, Chocolatour: A Quest for the World's Best Chocolate. And, wow! I've certainly found some amazing chocolate along the way. But that's not to say that we don't have some excellent chocolate being made right here in Canada.
So … to celebrate Canada Day, I thought I'd share a few of my Canadian favourites with you.
Beginning in Eastern Canada where Sarah lives, I'd like to salute the following:
Choco Cocagne of New Brunswick: This artisanal chocolatier is located in Cocagne, New Brunswick (near Fredericton.) Ginette Ahier produces some of the finest handcrafted chocolate you'll ever have the pleasure of enjoying and they're all pure and additive free. Find her at http://www.choco-cocagne.com/.
Sugah! Of Halifax, Nova Scotia: I love this chocolatier for the super creative flavour blends offered in their chocolate bars. I've never been a fan of white chocolate, but the Apricocious is superb! Find it and other delectable flavours at http://www.theuncommongroup.com/v/sugah_about.asp.
Moving further west, let's head over to La Belle Province. Quebec has several great chocolatiers, but one of my favourites is Mathilde Fays of Oka, Quebec, who makes a tremendous array of chocolate bonbons. You'll find Mathilde Fays Chocolaterie at http://www.chocolateriemf.com/.
Ontario is a big province and has many excellent chocolatiers (people who work with prepared chocolate to create their own unique specialties.) Ontario also has two excellent chocolate makers who source their own cocoa beans from which they make chocolate. SOMA chocolate maker is one of the finest in Canada, with two shops in Toronto. You'll find SOMA at http://www.somachocolate.com/.
My home province of Manitoba is proud to have Chocolatier Constance Popp in Winnipeg to keep us chocolate lovers happy with new and unique flavours. Her Manitoba beet truffle is one of the most unique flavour experiences you will find in a handcrafted chocolate. Find Constance Popp at http://www.artisanchocolates.ca/.
British Columbia probably has the largest number of fantastic chocolatiers in the country. Needless to say, there are many that will satisfy your cravings—each with his of her distinct style. For variety of products, including a wide range of bars, chocolate truffles and bonbons, barks, and pastries, my top pick goes to Thomas Haas of Vancouver. You'll find Thomas Haas at https://www.thomashaas.com/.
There are many other noteworthy men and women making artisanal chocolate in Canada. They will be profiled in volume II of my book, which I am currently researching. But you'll find a large number listed in the A-Z Guide for Chocolate Lovers contained in Volume I of Chocolatour.
And to celebrate Canada Day and the fine chocolate being produced here I'd like to offer you 20% off the price of a printed or e-book if you buy the book direct from my site at http://chocolatour.net/book. Just enter the special code VBT20 on checkout and you'll get the reduced price today (July 1st) only!
If you're interested in joining me on some of my chocolate travels, please subscribe to my chocolate travel blog at http://diversionswithdoreen.com where you'll find profiles of some of the companies listed here in addition to many others around the world. Happy Canada Day!
And from me, Sarah Butland, Happy Canada Day as well as Fourth of July to my American Readers.
Thanks for reading and enjoying chocolate!
Sarah Butland
author of Sending You Sammy
, Brain Tales – Volume One
and Arm Farm