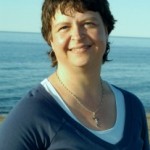 On November 30, 2013 you'll be able to meet 7 Pictou County, Nova Scotia authors at Cole's in Highland Square Mall. Jennifer Hatt is one of them.
Hatt's Finding Maria series is her debut into the fiction world though her writing has taking her among many adventures.
She has been interviewed by the great Sandra Phinney and reveals how her writing life went from just a hobby to her focus.
Living now in Pictou County, Jennifer Hatt is making a name for herself and still surprising her neighbours with an amazing book that has her name on it.
This woman is an amazing mom, musician, author and has a giant heart when it comes to helping cheer people up. I know her personally and love spending hours of time learning from her and laughing with her.
Come on over on Saturday to say hi!
Thanks for reading,
Sarah Butland