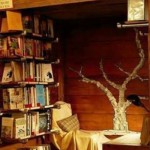 This month as everyone heads back to school, the leaves start changing colour and the air brings a chill I am bringing you lots of reading material in hopes you'll find something you love to read. While I am putting forth a huge effort to bring awareness to my own books I understand that everyone wants something different to read. Please show a huge welcome to all my guests by commenting and checking out their books.
Today is a bit different in that it's a post by me about a special literacy hero I've found who is doing, and trying to do, amazing things. Reading is contagious, especially when you have good role models and great books at hand. Please give Miles a warm welcome.
Meet Today's Champion Miles Cobbett
A man of many passions, Miles Cobbett is now on a mission to bring a new bookstore/ library to his community in Alaska.
Before he retired in the summer of 2002 his 30 students of that year won ALL three of the Principals Reading Award Trophies, 23 Olympic Style medallions, and 4 Letters Of Special Recognition. He had the Awesome honor of seeing every child in hi 4th grade "Team 55B" class get called up one-at-time, up to the school Principal on stage to individually get their Award. :)))) That was with a total of 300 students competing in just the 4th grade at the big 1785 K-5 school competing for just 3 trophies!
After RetirementSome people retire with the goal of traveling, doing nothing, reading some more books or maybe knitting. These aren't bad things and I admire anyone who can have that luxury but what Miles Cobbett does astounds me. He has written one book titled Champion: A Story of the Happy Life of Roman Lefthanded Losinski
but he's not done yet and has lots more in the works.
From being a teacher in South-Central LA to moonlighting as a taxi driver or pizza delivery guy, Miles now has the time and flexibility in addition to his passion and know how to dream and he unselfishly is dreaming of a better community, one with an amazing bookstore and library for the kids of his community.
Have you been to a library?I'm sure a lot of my readers have a library or bookstore within a 10 minute drive from them. Most take this for granted and rarely check out any books or visit the store often. But remember when you were a kid and a friend or relative bought you a book? I know my son eagerly runs to the mailbox eagerly awaiting his book from Dolly Parton's Imagination Library and the look in his eyes when it finally arrives is priceless.
Now imagine kids without a place to escape into another world. Someone who hasn't read and smelled the pages of Cat in the Hat or other classics. Miles wants to be sure everyone gets this chance with his kids only book heaven (adults must be accompanied by a child) and you can help. For as little as $10 you can make this dream a reality and let kids dream their own reality in a whole new way the world should enjoy.
With IndieGogo anyone from anywhere can help make this amazing goal a reality.
Thanks for reading and, in advance, for supporting such a wonderful cause,
Sarah Butland
author of Sending You Sammy
, Brain Tales – Volume One
and Arm Farm