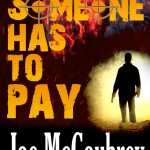 A novel born out of troubled times in Ireland
By Joe McCoubrey (Author of Someone Has To Pay)
When you've lived in troubled times and you're a writer, it's probably inevitable those troubled times will feature heavily in your first novel.
In my case, as a young reporter caught up in the midst of the worst of Northern Ireland's conflict in the seventies and eighties, I had an urge to tell a story that went behind the headlines, a story of hard-hitting fiction that sailed uncomfortably close to the truth.
And so it was that Someone Has To Pay
was born. It was more than two decades in the making and became subjected to endless rewrites and updates to keep pace with the frantic events unfolding around it. Fiction it might well be, but it had to be set against the stark realities and historical milestones that would lead eventually to peace in a troubled land.
It's a story as cruel and uncompromising as the events which drove it. Those were the times we lived in. There was no shortage of factual material from which to draw inspiration; indeed there were almost too many real occurrences that could have been used to over-glamorise or over-sensationalise what lies between the covers of my book.
I witnessed some harrowing things, some too raw and graphic ever to recall. Evil walked the land, and it was often hard to keep a rein on emotions. As a reporter I tried to be dispassionate and impartial but rarely with much success. Determined to shine a light into the shadows I found myself questioning not only the events themselves but also the motives of those behind the planning and commissioning of such events.
In the best traditions of investigative journalism I would like to be able to say that I succeeded in getting at the truth. I didn't even come close!
What I did discover, however, is that nothing is ever what it seems. All sides to the conflict were equally to blame for allowing events to escalate and for stubbornly resisting any attempts to stop them.
It shouldn't have surprised me to learn that, but it did. I was determined to use what I knew to produce a hard-hitting story that would dispel the myths still existing about those days.
I knew I had to step warily. All conflicts have their victims, with hardly a family in Northern Ireland untouched by those troubles. The result is that too many are still living today with the pain and memories of the past.
The last thing they need is for some fictional jockey to come riding over the hill with gung-ho recounts of episodes that touch deeply into the hearts and minds of individuals.
I made a conscious decision to avoid these at all costs. My story simply didn't need them. Instead I stuck with what I knew, and what I believed could have happened, as international pressure to end the conflict gathered an inexorable momentum.
I made sure too that the story was told from a balanced viewpoint, choosing no political or religious ascendancy for any side. That's how it was, and that's how it should be.
My bottom line for writing Someone Has To Pay
was to produce an exciting and entertaining action thriller. Certainly I wanted its backcloth to be one that I knew and experienced, but it's just that – a platform for telling what I believe is a cracking good yarn.
It will be for readers to judge whether or not I succeeded.
Joe McCoubrey Bio
Joe McCoubrey is a former Irish newspaper editor who is now a full-time action thriller writer. In the early seventies he was working in the Civil Service based at Stormont, the seat of the Northern Ireland Government, and was watching behind the scenes as some of the country's most momentous events unfolded. These were the early dark days of the 'troubles' – events that reverberated around the world, and somehow served to push him towards his real passion of writing. He became a newspaperman, started his own media business, and took a front row seat as history was played out in Ireland.
His debut full-length thriller Someone Has To Pay
has now been released by Master Koda Select Publishing, along with a short action story Death By Licence. A second full-length actioner is at the editing stages, and work has started on an Irish crime thriller.
Joe McCoubrey has lived all his life in the beautiful Irish town of Downpatrick, made famous by its association with the national Patron Saint, St. Patrick.
You can visit him at: http://joemccoubrey.com/
SOMEONE HAS TO PAY CAN BE BOUGHT AT THE FOLLOWING LINKS:
Thanks for this exclusive, Joe, and thank you for reading!
Sarah Butland author of Sending You Sammy
, Brain Tales – Volume One
and Arm Farm