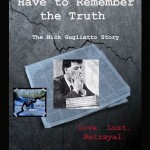 You Never Have to Remember the Truth: The Nick Gugliatto Story by Dominic Gugliatto and Kelly Moran
I've read Kelly's fictional work and thoroughly enjoyed it but was skeptical when she told me she was writing a biography. I was also worried that I knew nothing of Nick Gugliatto I needed to know to understand it. I shouldn't have been.
Kelly Moran composed Nick's story so simply and with compassion that I feel into it immediately. Never hearing of Lawrencia Bembenek's case I honestly trusted justice and thought her guilty as she was convicted of murder in 1981. Nick, I assumed to be one-sided, a foolish man who helped a convict escape and should be punished till death for it. He will be, in a way, just not behind bars.
Moran helped me realize how true it is that there are many sides to every story by sharing Nick's or now Dominic's story of trust, compassion, mistakes and regrets in a way that had me wondering just how corrupt a system can be.
Yes, Nick was guilty of helping a convicted murdered escape but the waves and droughts amidst this tale should make any sane, law-biding citizen wonder what really goes on inside sealed briefcases and the heads of those we trust to serve us well.
Thanks for reading,
Sarah Butland
author of Sending You Sammy
, Brain Tales – Volume One
and Arm Farm