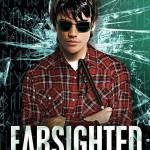 Just a sneak peek into what's to come tomorrow so you don't miss out on this wonderful opportunity.
Emlyn Chand with Novel Publicity is testing the waters of giving away her first, and only so far, novel Farsighted
. I've read it – loved it and now wonder how this marketing strategy will work for her.
See my review of this book right here!
Tomorrow I will take a look deeper into my skepticism of this and ask for your thoughts. Feel free to share them now as well.
Thanks for reading,
Sarah Butland
author of Sending You Sammy, Brain Tales – Volume One and Arm Farm