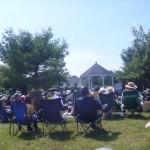 What a magnificent way to spend a beautiful summer day! Read by the Sea is an annual celebration of literacy in Canada and this year it brought home the likes of Johanna Skibsrub, recent Giller Prize winner for The Sentimentalists
, who read after Alexander MacLeod, Shandi Mitchell and Richard B. Wright; three very impressive Canadian authors entertaining a completely attentive crowd.
I'll use any excuse to return to Pictou County, Nova Scotia is a good one for me but to support such literary role models while being with my two special men is an amazing reason to go home!
I met Johanna before is Moncton during the Frye Festival so seeing her again was impressive but who I really was intrigued by was Alexander MacLeod who keeps getting shortlisted for awards for his first book, Light Lifting, a collection of short stories. I wasn't let down as his reading left me delighted with his dark simplicity captivating readers young and old; just not my restless 20 month old who simply wanted to play with his daddy.
Following the readings we had supper with those who stayed and the meal was something to rave about. But what had me laughing was the bond that quickly held the hands together of Alexander MacLeod's little girl and my own little boy. Off they quickly went to explore the park, play ring around the rosie and a young child's version of hide-and-seek (my son supposed to be hiding instead decided to mimic the new friend as she hid her eyes towards a tree to count). Not very old herself she was puzzled by the idea of finding someone looking quite unlike her but seeming to be a perfect reflection.
This friendship gave me the opportunity I need to get what will be a long cherished autograph of Alexander MacLeod and memories of how human and touchable even idols are.
July 21st, 2012 is already marked on my calendar as I'll be baking in the sun again to either read from my published works or enjoying those of others. Read by the Sea – an amazing event I'm now so thankful to know about.
Thanks for reading,
Sarah Butland