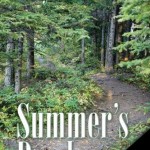 Kelly Moran, an American author, is currently fine-tuning her novel titled Summer's Road. In my opinion, there's not much to fine-tune as this story is brilliant.
A fan of Kelly Moran's immediately after reading An Insomniac's Dream, a collection of poetry and short stories, I was honoured to read her children's book The Tiny Caterpillar and the Great Big Tree next. This was another enjoyable story by Kelly as well was Idle Thursday, the first novella I read by the author.
Summer's Road Coming Soon
In its final stages, Summer's story of loss and found is compelling and a must read. I connected with Summer Quinn's sorrow immediately and never let it go. While I refuse to give anything away, Kelly Moran describes Summer's loss of her mother and father with heartbreaking realism. No child nor adult should go through the emotional trauma of losing both parents they way Summer did.
But even though her family was lost Summer is taught time and again that family is more than blood relatives. And although she's taught this lesson many times it takes some major events to have her learn them.
"I think only when you are truly alone can you see you never were."
Four friends from school days come together to conquer what we all hope to someday. Through stormy weather, torrential downpour and beautiful sunsets, an artist emerges and blossoms like orchid's and lily's.
A painting, a garden, a life threatening to be lived is the story of Summer Quinn as she finds herself in friends Ian Memmer, Rick and Dee. Not everyone can be as unlucky while being lucky enough to have such a long-lasting friendship as 28 year old Summer but it takes her a long time to realize they may be all she really needs.
A Romantic and Inspirational Novel
Summer's Road is mixed with romance, heartbreak, friendship and a road not commonly travelled but in the end it taught me to cherish what I have and not dwell on what I don't.
While travelling a road you can stop to smell the orchid's, take in the sights but you need to keep moving as you never know what beauty is waiting just ahead.
Remember what made you who you are but be that person and grow.
Thanks again to Kelly Moran for sharing this novel with me. It's like we're Summer and Dee even though we haven't met yet.
And thank you for reading,
Sarah Butland
author of Sending You Sammy
, Brain Tales – Volume One
and Arm Farm