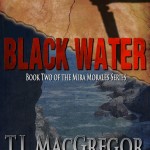 Black Water captured me much like an episode of Medium. It grabbed me with the first chapter by having me connect with Mira and her daughter Annie and then suddenly shook me so hard I was confused.
MacGregor took me from a simple time in 2003 which I could relate very well to and then floated to a time without cell phones, computers and GPS. Only Peter took some technological advances back in time to 1968, hiding them from everyone except for the children he adopted into his family.
This novel takes time travel to a whole new dimension as Mira sees the past and the future with the touch of a hand. I was feeling sympathy for a character who was the brunt of racial treatment which was relevant in the 60's. I met Janis Joplin and heard about other historical figures and questioned the idea of knowing what I know now to change the past which, in turn, would effect the future.
I do find myself wondering what ever happened between Mira and Shep but, now realizing this is a series, believe maybe my questions would be answered if I read another of T.J. MacGregor's Tango Key mysteries.
Thanks for reading,
Sarah Butland
author of Sending You Sammy
, Brain Tales – Volume One
and Arm Farm