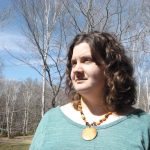 After watching a few movies that featured a struggling writer trying to find her place among competitors, be it as an author, freelancer, journalist, etc I knew what I wanted to blog about. Then things changed.
You see, in a way I was living in a movie with my writing career. In the last five or so years, I've been able to expand my passion for writing into different projects including Maritime EDIT magazine, business magazines and, mainly, living my dream through writing book reviews for Ah! At Home on the North Shore. While always knowing I wanted to be a writer, I imagined it would be as an author until I was asked to write for several amazing publications and it stuck, until it didn't.

Like stores installing more self-checkout lanes, TikTok instead of (yes, dating myself here) MSN or ICQ being all the rage, and having to wait a week to watch the next captivating episode of a series, times they are a changing and so comes with it, the way businesses run and what they prioritize. I get that, I just don't feel like I have been doing that.
Ah! At Home on the North Shore in particular, taught me to pitch, rejoice and highlight all the positive aspects of the books I read. It taught me to love every unique assignment and put full effort into it, even if it delayed my own work in progress. Having articles published in this local and beautiful magazine had me connect with local, beautiful people who began recognizing me from the small photo on the contributors page and seek out the magazine to see what I recently read. Some would tell me they bought or read and loved the book all based on my recommendation. The feeling was amazing.
Back to the movies, and my point. In each of these movies each struggling writer found their path and paved their way, seeing success from a different angle and celebrating all the changes that happened which got them there. They have always given me hope while also giving me the sense of readers thinking it was just that easy for all writers. That within an hour an a half, or over a month, any writer can be discovered, find a sweet and hilarious agent, and sign a contract for a book series that would immediately reach the best seller list.
I'm here to say, the life of a writer is like a movie and is unlike a movie. Well, my life anyway, I certainly can't speak for all writers (including the one who recently Tweeted about her disappointing first book launch which was commiserated by big time authors – I have never been so lucky in my grumblings, though maybe this blog post will do it 😉 ).

Again, all this to say, with the announcement of changes and a pause to Ah! At Home on the North Shore, I'm shocked, dismayed and, in a way, wonder if this had to happen as a sign to focus on my own writing. Not being in Maritime EDIT for some time now, too, I was able to take November and focus (in part) on a new novel which I'll publish in 2023. It frees up time to regroup, find out my own story and seek out my own reviews of books I've written.
Movies with struggling writers as their main character give me hope that I, too, with time will reach that best seller list and write the best stories you want to read. Movies with struggling writers who succeed in the end make me want to tell the story of how many months/years/decades I devoted my time and energy (in part) to writing the best story I could to reach readers like you. To send a message that not everything is easy and not all books get the justice they deserve.
This doesn't mean I will not plod on and accept freelance assignments, or even seek them out, as reaching an audience who recognizes me or buys a book because I recommended it is a feeling like no other. Similar, but not the same, as those who buy a book from me and say they love it (or review it). The feeling is amazing whenever anyone says they have read my words, even if it's a blog post or a Facebook post. Writing is what I do, in whatever avenue I'm welcomed to do it in, and finding readers like you is one of the reasons I do it.

So thank you for sharing, caring and reviewing. Every little bit helps as I make my way to the end of the movie where I achieve the writing goals I envisioned when I was just five years old.

Thanks for reading,

Sarah Butland