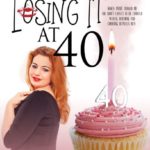 Celebrate my launch of my first ever romance novel and download the book today and review it tomorrow. Pretty please! With icing on top!
Losing It At 40:
Being alone, a virgin and comfortable in her own skin, Annie, like a lot of us, dreads turning forty. Turning forty tends to mean more challenges physically, in the bedroom and beyond. Losing It At Forty is Anne's story and while she has, so far, lived a mundane life her world is about to change. Sitting at a bar, Annabelle comes to the decision to loosen up and lose her virginity. Starting with no longer using her nickname and wanting to be referred to as her full name, Annabelle.

Press Release
This launched yesterday officially and already has two five start reviews! Three more and it goes to print. Here is what people are saying:
Robyn5.0 out of 5 stars Romantic and hot, hot, hot!! Reviewed in Canada on June 22, 2021 Loved this book! The main character was so relatable and down to earth. I could really get behind her and wanted her to succeed in love. It has the romance and the heat! Didn't want to out it down.
linda berry5.0 out of 5 stars A fun read! Reviewed in the United States on June 23, 2021 Poignant, funny, and engaging! A fun read!
Rebecca: The character is definitely spicier than what I expected
Marise: finally finished the book….i loved it and didn't want it to end ….
Tracy: Great job @Sarah Butland !! I told you you woukd do great. Im an advid romance fan and i loved it.

Kindle Customer4.0 out of 5 stars Loved it Reviewed in Canada on June 24, 2021 From the start I was intrigued to see what would happen…..then I didn't want to put it down, very well written. Would read it again.
Tracy and Tim5.0 out of 5 stars Hot! Reviewed in Canada on June 26, 2021Verified Purchase Well written romance story. Annie is a very relatable character. Shes could be anyone of us. Even at 40 he knows what she wants and isnt afraid to go after it.
The author has branched out from her usual genre but im so glad she did. Will be reading this again!
Angela Ford4.0 out of 5 stars Finding true love…
The question is not—will she find true love—but—with whom…


Will your name to be added to my list of reviews next?

Buy it now at https://amzn.to/3d55plG for your American account, https://amzn.to/3j1qcKS if you're in Canada!

Many thanks to my publisher, Books To Go Now, and the team for making my first *real* experience an amazing one!

Thanks for reading and reviewing,

Sarah Butland
Romance author